Type 40&10 Weld Outlet Fittings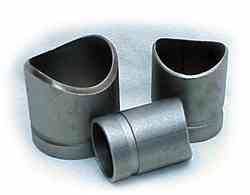 The most versatile and economical method to achieve branch or tee connections in the piping industry. Shipping is provided from two locations, resulting in fast deliveries.
The wide variety of sizes, shapes, and end preparations that Island Fittings produce allows the architect, design engineer, or contractor to maximize the proven advantages of all four universal piping methods....
Welded
Threaded
Flanged
Grooved
New Improved Fit Recommended for Automatic Welding Machines
MATERIALS:
Highly weldable grade black carbon steel pipe (equal to or exceeding the requirements of the American Society for Testing and Materials specifications). Our options consist of the following in single/dual or triple stenciled material: A-135, A-795, A-53. (ERW, CW, or BW)
U.L./U.L.C/F.M. WORKING PRESSURE*:
Figures 40CG / 40RG / 40MT / 40BW up to 500 CWP in PSI
Figure 10RG up to 300 CWP in PSI
*Pressures have been established using listed and/or approved couplings and fittings of equal or higher ratings, Hydrostatic test of 2:1 for maximum working pressure and 5:1 for strength of body (4:1 for 8").
QUALITY ASSURANCE AND INSPECTION:
Dimensional integrity is assured with accurate machining, stringent quality control procedures, and sound fabrication techniques. Grooves, threads and bevels are constantly checked for proper alignment and concentricity, uniform depth, taper and degree, as applicable, conforming to established industry standards.
MARKING:
For identification purposes, each fitting bears the name "ISLAND", or another registered trademark, along with an appropriate figure number and end preparation designation. In addition, the nominal outlet and header sizes are in inches, indicating listing and approval with recognized testing laboratories.

DESIGN:
ISLAND weld outlets are designed to provide unobstructed full flow. This is accomplished by making the inside diameter, of the low weld volume machine, contour precisely to fit the outside diameter of the adjoining pipe/ header to be welded. The full penetration weld is made by forming a smooth passageway to prevent the catching or clogging of foreign matter. Therefore, no special allowances are necessary when utilizing computer hydraulic flow calculations.

FINISH:
Fittings are cleaned to bare metal, internally and externally, and are protected with a smokeless rust inhibitor, giving a lasting finish to extend shelf life.

SPECIALS:
In addition to brochure listings, black carbon seamless, stainless steel and other materials (sizes up to 36" O.D.), various wall thicknesses, lengths, shapes, degrees of intersection, and end preparations are available and can be supplied on special order. Please call for additional information.
PACKAGING:
For convenience in warehouse handling, storage, and inventory control, ISLAND Figure 40 and 10 fittings are packaged in corrugated cartons; palletized and sealed with shrink wrap plastic. Thread protectors are provided with #40MT to insure quality from factory to job site
SPECIAL NOTE:
ISLAND type 40 and 10 outlets are listed and approved to be used with every manufacturers' brand of sprinkler pipe. This includes schedules 5, 7, 10, 20, 30, 40 and any other proprietary sprinkler pipe being manufactured. In other words, ISLAND outlets, whether type 40 or type 10 can be welded to any schedule steel pipe available, without limitation to the fitting.
SUGGESTED FIRE PROTECTION SPECIFICATION:
Welding branch outlet fittings employing cut or roll groove, male thread or buttweld bevel shall be U.L./U.L.C. listed and F.M. approved conforming to NFPA, Bulletin 13, of Domestic Manufacture as produced by ISLAND FITTING COMPANY, Memphis, TN 38018
Good piping practices should always prevail. The designer should always take into consideration the design data of other manufacturers' products when used in conjunction with ISLAND fittings, as well as environmental and service factors such as temperature, specific pressures, and external or internal loads.