LJ1-25 Tapping Machine Only

Qtn:

Part:

1
LJ1-25 tapping machine w/ 11" of Travel
1
Boring bar
1
Mandrel set (Not included in 3/4-1-1/4 Taps)
1
Nipple
1
1/4" full port ball valve
1
Hole saw cutter
1
Pilot Drill Bit with Retainer Wire
1
Adaptor
1
O-rings for standard temperatures
1
Owners manual

Choose your package below to view price

Need additional items to complete your hottap? Items such as pilot drill bits, class 150 lb., 300 lb., and 600lb. ANSI Flanged and Threaded Adaptors? Feel free to call us at 1-800-279-5659 to complete your order or any other support you require.
This Machine Works!
Designed light to maneuver, built smart to perform
Don't be Caught short!
Full 11" of travel
Competitors don't have enough travel to satisfy
Total Control of Travel for Safety
No slap back
Competitor's tapping machines slap back under pressure, which can cause possible bodily injury
Positive Retention of Coupons
Minimize Coupon loss
Designed by Tappers - for Tappers
Hand operated or power driven
Full 11" of travel
3/4" - 2" hot taps on most types of products
"Quick change" of 1" and 2" boring bars - No confusing parts
Total weight with adapter - 14 lbs
Compatible with 1" - 2 1/2" line stopping
American std & British std adaptors
Weight of machine is 14lbs. (without cutters or adapters)
Machine is 33" in length (without cutters or adapters)
Made in the USA
For more accessories please scroll down the page.
Replacement and additional parts in stock
Support provided for our customers by trained tapping personnel
Operating max. pressure:
300 psi. @ 100° F
Operating temperature:
250° F @ 250 psi.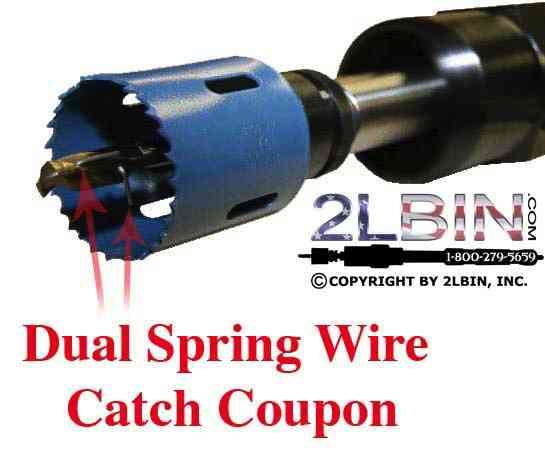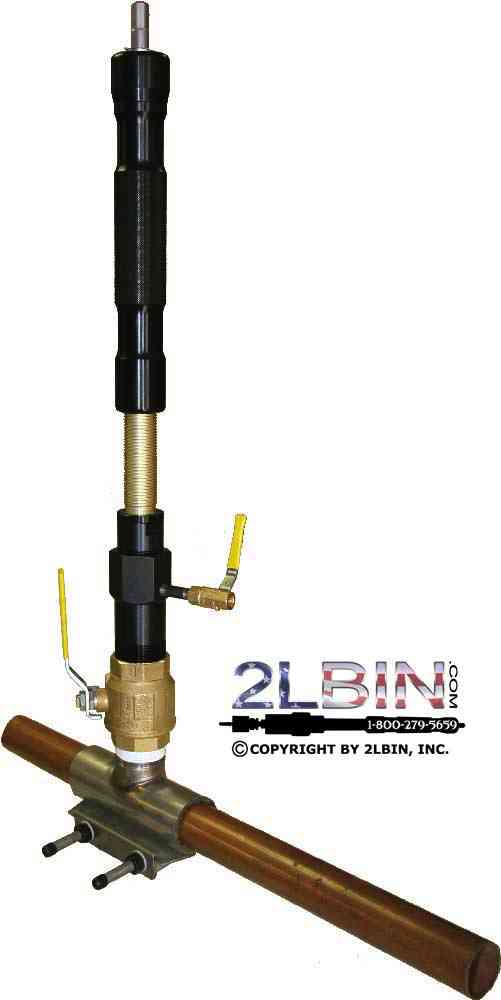 Click the image to increase the size.
LJ1-25 Turn-Key 3/4"-2" Package

Qtn:

Part:

1
LJ1-25 tapping machine w/ 11" of Travel
1
Boring bar for ¾- 1-1/4" taps.
1
Boring bar for 1-1/2"-2" taps.
1
Mandrel Set
2
¼" D style pilot drill w/ retention wire - Retention Wire Installation Video
2
3/8" P style Pilot drill w/ retention wire - Retention Wire Installation Video
1
1" Iron Pipe sub adaptor
1
1 1/2" IP sub adaptor
1
2" IP sub adaptor
1
1/4" Test valve assembly
1
7/8" Bi-Metal holesaw
1
1 3/8" Bi-Metal holesaw
1
1 7/8" Bi-Metal holesaw
1
Owners manual

Total

$1,995.00 + Shipping

Not necessary to purchase complete kits. Feel free to purchase only what you need for the job. Call 1-800-279-5659 and let us assist you with your order today.

D-Boring bar allows for small cutters to screw directly on. A 1/4" retention style pilot drill is supplied with each D-boring bar in this package.
P-Boring bar has a cutter mandrel and retaining pilot drill. A 3/8" retention style pilot drill is supplied with each P boring bar in this package.


For more accessories please scroll down the page.

This Tapping Machine Taps:

Asbestos-Cement Pipe
Stainless Steel Pipe
Steel Cylinder Pipe
Carbon Steel Pipe
Ductile Iron Pipe
Cast Iron Pipe
CMLC Pipe
Copper Pipe
PVC Pipe
Polyethylene Pipe
Fiberglass Pipe
Transite Pipe
Metal Walls
Concrete Walls
Steel Plate

High Pressure Line Contents

Crude Oil
Gasoline
Natural Gas
Domestic Water
Reclaimed Water
Potable Water
Chemicals
Wastewater
Sewage
Steam
Chilled Water
Heated Water
1/4" x 4" Pilot Drill Bits with Retainer Wires



(2- retainer wire holes

catch coupon

– Total bit length 4" - Flute length 1 1/2")
Compatible with most Hot Tapping Machines.
Retention Wire Installation Video

Specs

Item #

Price

1/4" x 4" Pilot Drill

T1P-1402-RRW

$18.95

Wire diameter .039 = .991 mm

1/4" Pilot Drill Bit Retainer Wire .039 or .991mm Thickness



Retention Wire Installation Video

Specs

Item #

Price

3-feet of spring wire diameter .039 = .991 mm

T1P-.039-wire

$10.00

3/8" x 4" Pilot Drill Bits with Retainer Wires



(2- retainer wire holes catch coupon- Total bit length 4" or 5" Flute length 1 3/4")


Compatible with most Hot Tapping Machines


Retention Wire Installation Video

Specs

Item #

Price

3/8" x 4" Pilot Drill

T1P-3840-RRW

$46.95

3/8" x 5" Pilot Drill

T1P-3850-RRW

$48.95

Wire diameter .051 = 1.295 mm

3/8" Pilot Drill Bit Retainer Wire .051 or 1.295 mm Thickness



Retention Wire Installation Video

Specs

Item #

Price

3-feet of spring wire diameter .051 or 1.295mm

T1P-.051-wire

$12.00

1/4" x 4" Carbide Tipped Pilot Drill Bits with Retainer Wires



(2- retainer wire holes catch coupon- Total bit length 4" Flute length 1 3/4")
Compatible with most Hot Tapping Machine
Retainer wires come installed in drill bits

Specs

Item #

Price

1/4" x 4" Pilot Drill

$31.00

3/8" Pilot Drill Bits with Retainer Wires



(2- retainer wire holes catch coupon- Total bit length 4"or 5" Flute length 1 3/4")


Compatible with most Hot Tapping Machines


Retainer wires come installed in drill bits

Specs

Item #

Price

3/8" x 4" Pilot Drill

T1-3804-CT

$35.00

Call and Request
1-800-279-5659

3/8" x 5" Pilot Drill

T1-3805-CT

Call

Wire diameter .051 = 1.295 mm

LJ1-25 Boring Bars



Boring bars for the LJ1-25

hot tapping machine

Specs

Item #

Price

32 1/4" LJ-125 D-Boring Bar ¾"- 1 1/8" Taps

LJ-BB-75-125

$242.00

32 1/4" LJ-125 P-Boring Bar 1 1/4" - 2" Taps

LJ-BB-95-125

$315.00

Style P boring bar requires a mandrel set for hole saw

Tapping Adaptors





Threaded national iron pipe tapping adaptor with a 1/4" IP bleed off port.

Specs

Item #

Price

1" Threaded

T1A-IP-100

$153.95

1 1/2" Threaded

T1A-IP-150

$153.95

2" Threaded

T1A-IP-200

$153.95

NIP threaded adaptor

Mandrel Set



(Mandrel sets are for type P Boring bars)


Compatible with LJ1-25, T1-2 & T1-4 Hot Tapping Machines

Specs

Item #

Price

Mandrel Set

T1-BBM-3000

$91.13

2 pins and an upper and lower mandrel set

LJ1-25 O-Ring Kit





Compatible with the LJ1-25 Hot Tapping Machine

Specs

Item #

Price

LJ1-25 O Ring Kit

LJ-ORings

$29.95

12 O-Rings for LJ1-25 Hottap machine

Louie Jr. Feed Tube



( Light Weight Aluminum )


Compatible with LJ1-25 Hot Tapping Machine

Specs

Item #

Price

Louie Jr. Feed Tube

LJ-FT

$750.00

Louie Jr Main Body Tube



( Light Weight Aluminum with Black Oxide Coating)


Compatible with LJ1-25 Hot Tapping Machine

Specs

Item #

Price

Louie Jr. Main Body Tube

LJ-MB

$750.00

Louie Jr. Threaded Adaptor Housing



( Light Weight Aluminum with Black Oxide Coating)


Compatible with LJ1-25 Hot Tapping Machine

Specs

Item #

Price

Louie Jr. Threaded Adaptor Housing

LJ-TAH

$125.00

Louie Jr Rear Retention Nut



( Light Weight Aluminum with Black Oxide Coating with Brass Insert)


Compatible with LJ1-25 Hot Tapping Machine

Specs

Item #

Price

Louie Jr. Rear Retention Nut

LJ-RRN

$ 250.00

Adaptor Housing Set Screws





Compatible with LJ1-25 Hot Tapping Machine

Specs

Item #

Price

Adaptor Housing Set Screws

LJ-AHSS

$10.00

Rear Retention Clip



( Galvanized Steel )


Compatible with LJ1-25 Hot Tapping Machines

Specs

Item #

Price

Rear Rentention Clip

LJ-RRC

$10.00

Rear Retention Washer



( Galvanized Steel )


Compatible with LJ1-25 Hot Tapping Machines

Specs

Item #

Price

Rear Retention Washer

LJ-RRW

$5.00

Adaptor Housing Bolt Plate



( Light Weight Aluminum with Black Oxide Coating)


Compatible with LJ1-25 Hot Tapping Machines

Specs

Item #

Price

Bolt Plate

LJ-AHBP

$75.00

Pipe Threaded Full Port Ball Valves




The 171N Brass Ball Valves have a rugged, dependable design, meeting rigid specification for world wide use. Every valve is individually tested in an open and closed position at 80 psi. The two piece 171N full port design is available in sizes ¹⁄₄ - 4". A wing handled version of the 171N is also available as in Figure 171N-T in sizes ³⁄₈ - 1". All valves conform to MSS-SP-110, MSS-SP25 and Federal Specification WW-V-35B Type II, Class A
Specs

Item #

Price

1/4" Full Port Ball Valve

2lb-1/4-171N

$38.35

1/2" Full Port Ball Valve

2lb-1/2-171N

$42.60

3/4" Full Port Ball Valve

2lb-3/4-171N

$61.85

1" Full Port Ball Valve

2lb-1-171N

$84.60

1 1/4" Full Port Ball Valve

2lb-1-1/4-171N

$144.90

1 1/2" Full Port Ball Valve

2lb-1-1/2-171N

$196.25

2" Full Port Ball Valve

2lb-2-171N

$356.70

Bi Metal Hole Saws



High-speed steel cutting edge provides shock resistant teeth and resists tooth strippage. 4/6 positive tooth configuration allows for fast, smooth cuts and less vibration. Packaged in individual boxes.
Features:

4/6 variable tooth configuration
1 7/8" (48 mm) depth of cut
3/16" (5 mm) thick heavy-duty backing plate eliminates need for drive plate

Application information:

Creates holes for pipe and tubing installations, door lock installations, electrical conduits, hoses, and antennas.
Ideal for plumbing, construction, aircraft, electrical, maintenance, and automotive applications.
Use in steel, aluminum, brass, cast iron, plastic, or wood

Specs

Item #

Price

7/8" Single Stack Cutter

BM-514-780

$11.82

1 1/8" Single Stack Cutter

BM-518-118

$ 12.84

1 3/8" Single Stack Cutter

BM-522-138

$ 13.29

1 7/8" Single Stack Cutter

BM-530-178

$16.41

Carbide Tipped Hole Saws



Carbide tips allow for greater heat and wear resistance than bi-metal tips, provide up to 10 times greater tool life on abrasive materials, and come packaged in individual boxes.

Features:

3/16" (5 mm) thick heavy-duty backing plate eliminates the need for drive plate
3 teeth per inch for aggressive cutting.
1 5/8" (41 mm) depth of cut

Application information:

Ideal for plumbing, marine, and aircraft applications.
Use in wood laminates, fiberglass, plywood, and tile.

Specs

Item #

Price

7/8" Single Stack Cutter

CT-14-780

$ 19.47

1 1/8" Single Stack Cutter

CT-18-118

$ 24.09

1 3/8" Single Stack Cutter

CT-22-138

$ 27.09

1 7/8" Single Stack Cutter

CT-30-178

$ 35.53
Leave us a Facebook Comment