T-30 Electric Tapping Machine 3"- 12" Basic Package
Click here for the T-30E Turn-Key Package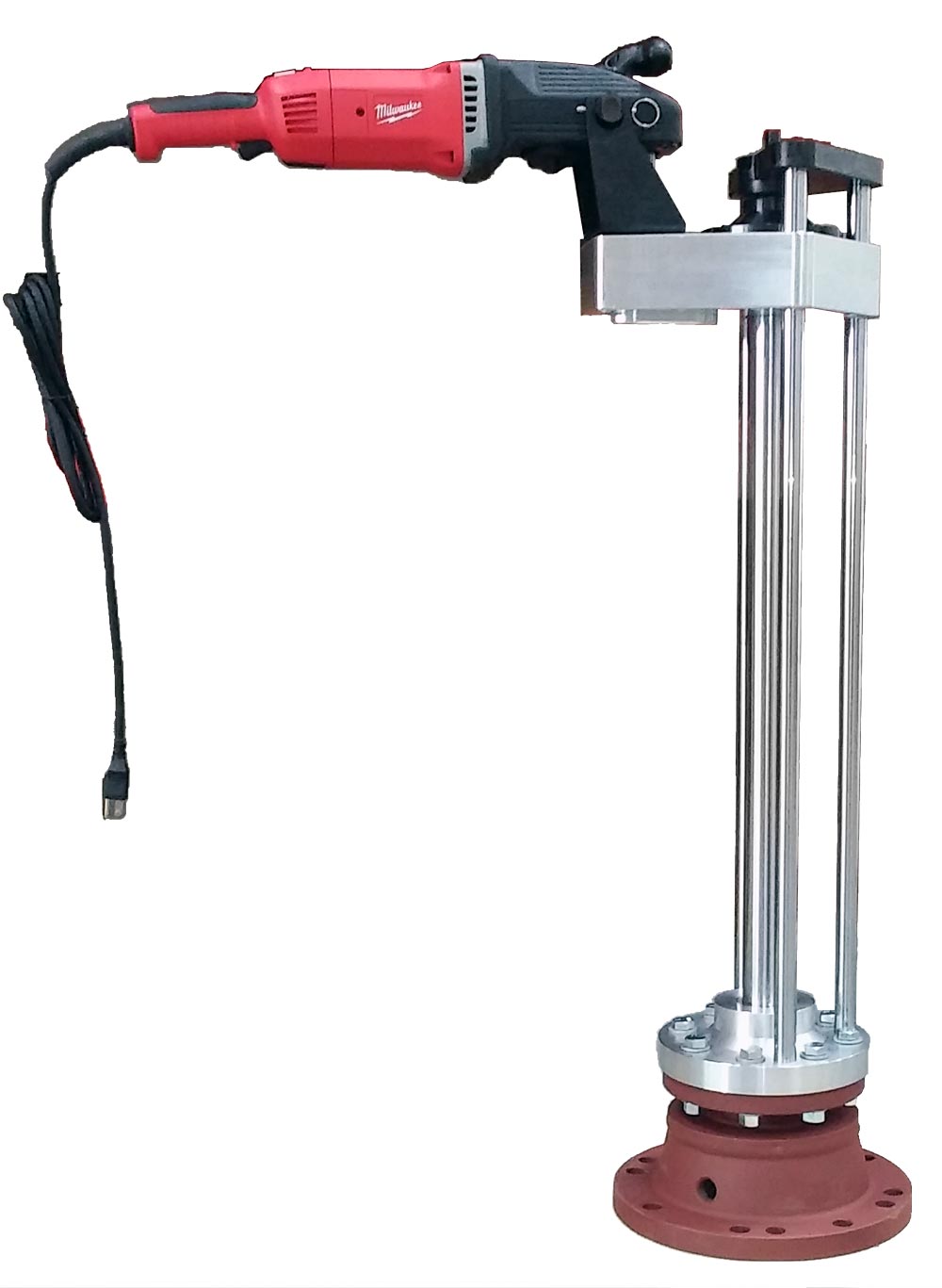 Qtn:

Part #:

1
T-30 Electric Tapping machine w/ Milwaukee Super Hawg Dril. Includes operating handle, GFI plug, adaptor bolts, pilot pin & screws. Operating manual.
1
Operating handle
1
Adaptor bolts
1
Pilot pin & screws
1
Operating manual

Total

$7,885.00 + Shipping

Need additional items to complete your hottap? Items such as pilot drill bits, class 150 lb., 300 lb., and 600lb. ANSI Flanged and Threaded Adaptors? Feel free to call us at 1-800-279-5659 to complete your order or any other support you require.


Designed by Tappers for Tappers
Very powerful built in Electric or optional air drive unit
30" of travel
Total Length of Machine is 48" Tall Without Adaptor
Taps all types of pipe quickly and safely
3" - 12" pressure tap-ins
3" - 12" compatible with line stopping
Total weight of machine- 125 lbs. (without cutters or adapters)
Adapters available in steel or aluminum
British Standards Available
Optional air drive for flammable environments
Made in the USA
For more accessories please scroll down the page.
Operating max. pressure:
300 psi. @ 100° F
Operating temperature:
250° F @ 250 psi.

This Tapping Machine Taps:

Asbestos-Cement Pipe
Stainless Steel Pipe
Steel Cylinder Pipe
Carbon Steel Pipe
Ductile Iron Pipe
Cast Iron Pipe
CMLC Pipe
Copper Pipe
PVC Pipe
Polyethylene Pipe
Fiberglass Pipe
Transite Pipe
Metal Walls
Concrete Walls
Steel Plate

Line Contents

Crude Oil
Gasoline
Natural Gas
Domestic Water
Reclaimed Water
Potable Water
Chemicals
Wastewater
Sewage
Steam
Chilled Water
Heated Water
T-30 - T-37 Hot Tapping Machine Accessories

Hot Tapping Machine Crank Hand Wheel


(Casted Aluminum hand wheel)


Compatible with T-30H, T30A, T-37H & T-37A Hot Tapping Machines


Specs

Item #

Price

T-30 and T-37 Hot tapping machine crank hand wheel

T2-6020K35
$225.00
Pilot Drill Shafts with Retainer Wire


(Insert tips sold separately

)
Compatible with T-24E, T-30H, T30A, T-37H & T-37A Hot Tapping Machines


Specs

Item #

Price

3"-6"-8" Taps Drill shaft only

T2P-3080-RRW

$512.00

10"-12" Taps

Drill shaft only

T2P-1012-RRW

$622.00

14"-16" Taps

Drill shaft only

T2P-1416-RRW

$730.00

2LBin Spade Insert Tips for Drill Shafts


(Designed for 3" - 16" Taps)
Compatible with T-24, T-30, & T-37 Hot Tapping Machines


Specs

Item #

Price

1 1/32" Tip
T2T-3012-RRW
$69.95

Retention Wires Replacment 6 Pack





(Designed for 3" - 8" Taps)




Compatible with T-30 and T-37 Hot Tapping Machine Pilot Drills


1065 Spring Wire, Temper Rating; Hardened, Tensile Strength; 165,000 PSI. (This wire is coated with oil for corrosion resistance)

Specs

Item #

Price

Retention Wires for T2 Pilot Drill, Pack of 6
T2-PDRW
$19.95
Pipeline Hot Tapping Adaptors


( Rated for 150PSI )


Compatible with T-24, T-30, & T-37 Hot Tapping Machines


Specs

Item #

Price

4" Adaptor

TA2-40C-SFM

$739.00

6" Adaptor

TA2-60C-SFM

$846.00

8" Adaptor

TA2-80C-SFM

$996.00

10" Adaptor

TA2-10C-SFM

$1,490.00

12" Adaptor

TA2-12C-SFM

$1,589.00

14" Adaptor

TA2-14C-SFM

$2,960.00

16" Adaptor

TA2-16C-SFM

$3,910.00

Need more sizes? Click here
Brazed-Carbide Holesaw Cutters


( Carbide Teeth Brazed into Steel Body )


Compatible with T-24, T-30, & T-37 Hot Tapping Machines


OD Size

Depth

Item #

Price

3 1/2"

2 5/8"

DT2-030-120

$496.00

5 1/2"

3"

DT2-050-120

$718.00

7 1/2"

4 3/8"

DT2-070-120

$950.00

9 1/2"

5"

DT2-090-120

$1,326.00

11 1/2"

5 7/8"

DT2-011-120

$1,559.00

12 3/4"

7"

DJR-250-1275

$2,148.00

14 1/2"

8"

DJR-240-1450

$2,448.00

Need more sizes? Click here

13H.P. Honda Gasoline Engine
( American Made, Heavy Duty Gear Pumps )
Compatible with T-24, T-30, & T-37 Hot Tapping Machines

-STANDARD GAS EQUIPMENT
-DIESEL, ELECTRIC & NATURAL GAS UNITS AVAILABLE

Specs

Item #

Price

• Honda's Series Of Gasoline Engines
• Mobile Style, Rugged Hydraulic Reservoir
• Electric Start
• Spin On Hydraulic Filter
• 4-Way, 3-Position Directional Control Valve
• Quick Couplings
• Selector Valve Standard
• Liquid Filled Pressure Gauge          
• 13H.P. Honda Gasoline Engine
• 8 G.P.M. @ 2100 P.S.I.
• 12 Gallon Hydraulic Reservoir
• 225 Lbs. Overall Weight and comes with wheels and pull handle

2lb-13-1-8-G-C
$4,615.00.00
Need more sizes? Click here

2LBin Adaptor FlangeBolt Kit


( Galvanized Steel )
Compatible with T-24, T-30, & T-37 Hot Tapping Machines


Specs

Item #

Price

Adaptor 4" Flanged Bolt Kit
4"FLG-BLT-SET
$15.00

T-30 or T-37 Air Drive Accessory


Compatible with T-24, T-30, & T-37 Hot Tapping Machines


Specs

Item #

Price

T2 Air Drive with a 4 way port for Tapping Machine
T2AirDrive
$6,900.00

Hydraulic Quick Connect


( Galvanized Steel )
Compatible with T-24, T-30, & T-37 Hot Tapping Machines


Specs

Item #

Price

Quick disconnect coupler
HYD-Female
$40.15
Hydraulic quick coupler
HYD-Male
$17.05

Linestop Completion Plug Holders
( Black Steel )
Compatible with T-24, T-30, & T-37 Hot Tapping Machines


Specs

Item #

Price

Completion plug holder tool 4"- 6" Linestops
T2PH-12-150-0406
$465.00
Completion plug holder tool 8"- 36" Linestops
T2PH-12-150-0836
$465.00


Leave us a Facebook Comment