1.0 HP-104 & HP-106 MAINTENANCE
The HP-104 and HP-106 hottap drilling machines have been designed for rugged service and require a minimum amount of maintenance. Reasonable care is necessary to keep the machine in top operating condition for an extended period of time. Following are recommendations for proper care and handling.
A. When the machine is not being used, the exposed end of the boring bar should be protected.
B. Do not use pipewrenches on the body itself. When connecting the machine to a valve or valve adapter, only use an open end wrench or an adjustable wrench on the two flat surfaces.
C. After each use, clean dirt and foreign material from exterior of machine.
D. It is imperative that you do not damage the hex drive at top of machine.
E. Regularly lubricate ratchet handle with oil.
F. Inspect pilot holder for any damage after each tap. Make sure that retention-wire drops by its own weight and moves freely.
G. Each part should be lubricated and disassembled every six (6) months or thirty ( 30 ) taps, whichever comes first, following the procedures in paragraph 2.0.
H. Replace the packing after each high temperature tap above 350 ' F, or tap in corrosive fluids. Procedures for packing replacement are below.
I. Oil coat the drills, holder pilots, and hole-saws to protect them from corrosion. Inspect these parts regularly, especially before storing, and recoat them with oil.
2.0 MACHINE DISASSEMBLY

1. Fully extend boring bar from body tube by holding body tube and rotating feed tube clockwise. The feed tube should be at the 18" or 28" mark on the body tube. See Image 1.



Image 1. Extend Boring Bar
A. Loosen socket head set screw on the bearing and cap retainer. See Image 2.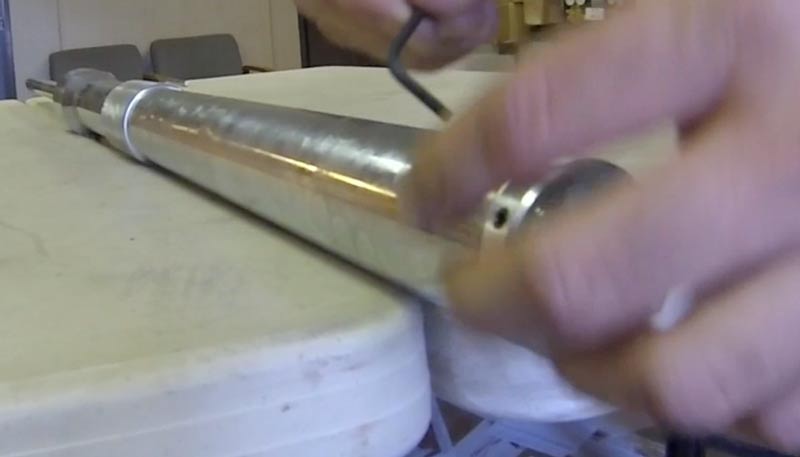 Image 2 Loosen Socket Head Set Screw
B. Use an Allen wrench to loosen the set screw in the top of the bearing and cap retainer. See Image 3.Use an Allen wrench to loosen the set screw in the top of the bearing and cap retainer. See Image 3.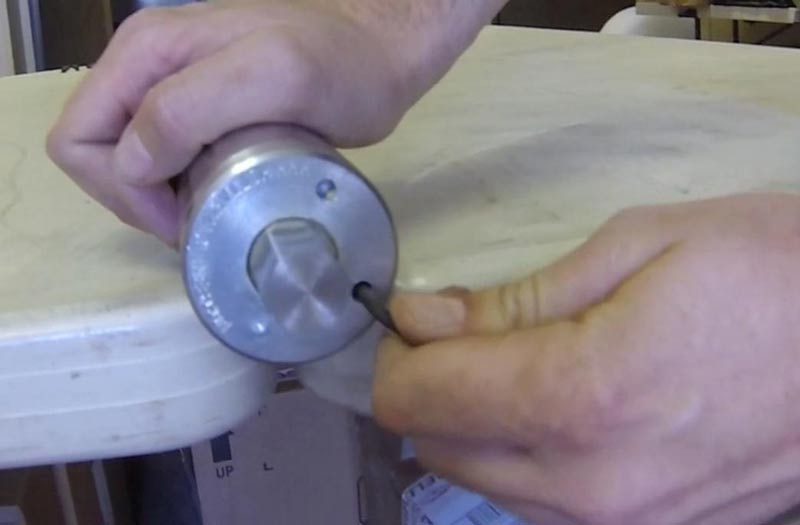 Image 3. Loosen Set Screw
C. Using packing wrench provided, remove retainer nut next to bearing at top of machine by turning counter clockwise. See Images 4 and 5.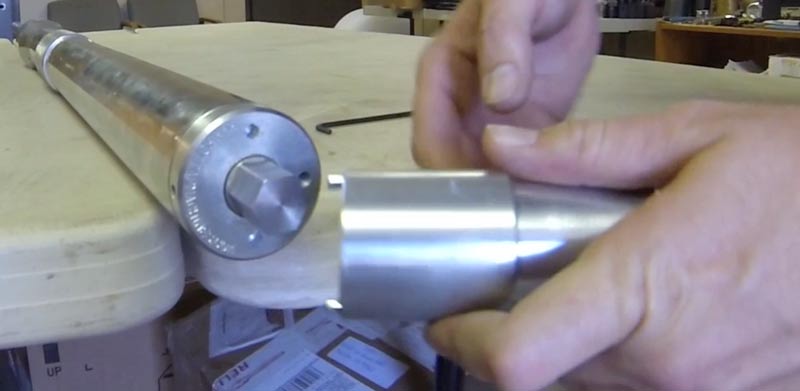 Image 4. Remove Retainer Nut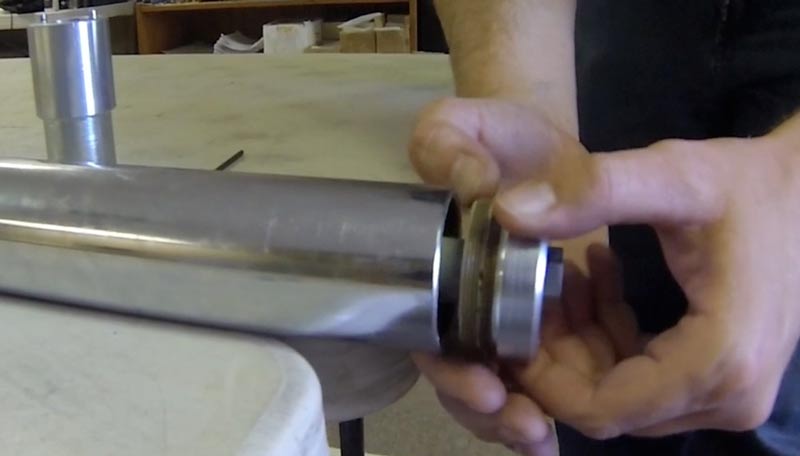 Fig 5, Remove Retainer Nut
1. When removing the retainer nut, you must take care that the brass pellet inside does not fall out . It is this pellet that, when the socket head cap screw is tightened, locks the feed tube and body tube together for plug setting operations.
D. Remove snap ring and three piece thrust bearing at top of machine. See Images 6 and 7.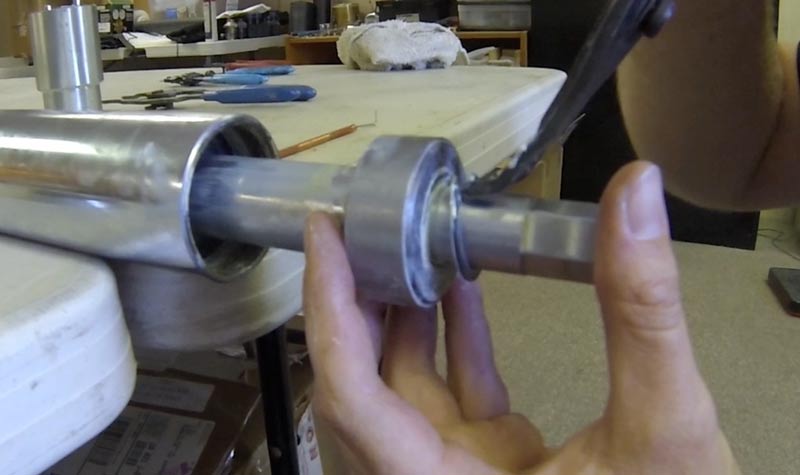 Image 6. Remove Snap Ring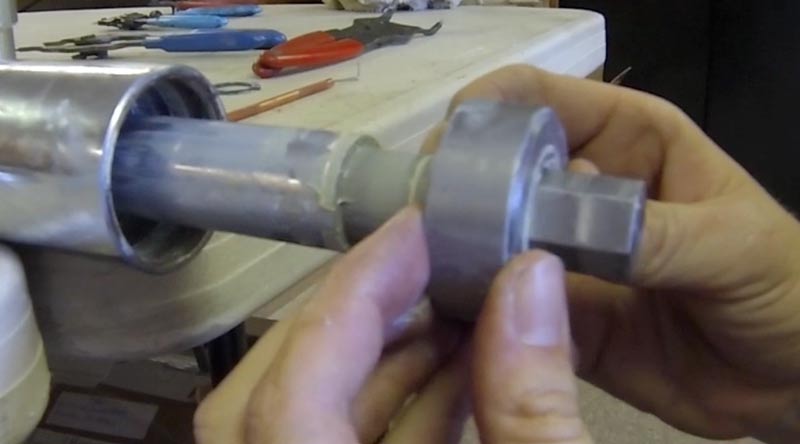 Image 7. Remove Three Piece Thrust Bearing
E. Remove boring bar through bottom of machine. See Image 8.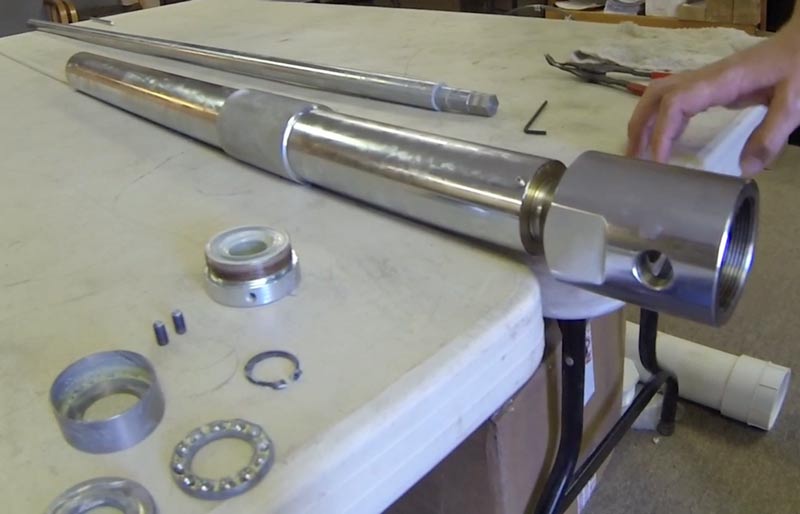 Image 8. Remove Boring Bar
H. Remove packing retainer nut, using packing wrench provided, from body tube by turning clockwise (threads are left handed). Remove packing. See Images 9 and 10.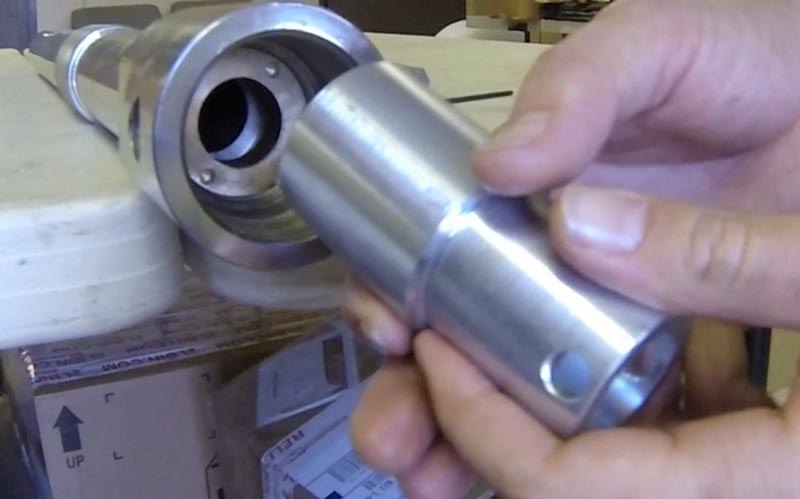 Image 9. Remove Packing Retainer Nut


Image 10. Remove Nut and Packing
3.0 MACHINE REASSEMBLY
A. Reassembly procedures are basically the reverse of steps A through H of paragraph 2.0, MACHINE DISASSEMBLY. However, the following additional information is provided and refers to various steps in the disassembly procedures.
1. Prior to assembly grease all parts.
2. Replace packing (step H). Replace packing with high temperature packing. Enough sections should be used to make a stack 1" high. The grooves should be greased and inserted one section at a time with the lip toward the bottom. See Image 11.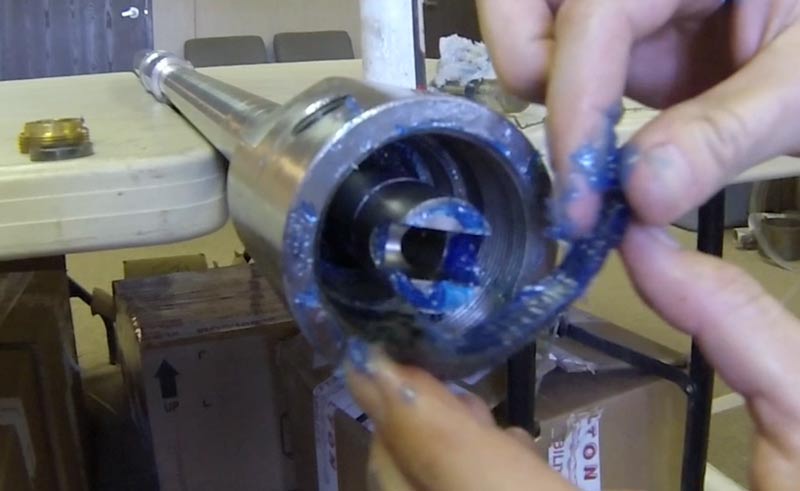 Fig 11. Grease Packing
3. Inspect packing retainer nut (from step F). A nylon insert on the side serves as a lock washer. Inspect this insert for condition. Replace if necessary. A nylon pellet 1/4" in diameter and 7/32" long will be required.
4. Remember that the packing retainer nut has left handed threads. Turn counter clockwise to install. Make sure that boring bar will rotate without excessive torque by tightening firmly.
5. Install thrust bearing (from step D). Grease each bearing individually when replacing three piece thrust bearing at top of machine. Inspect snap ring. See Image 13.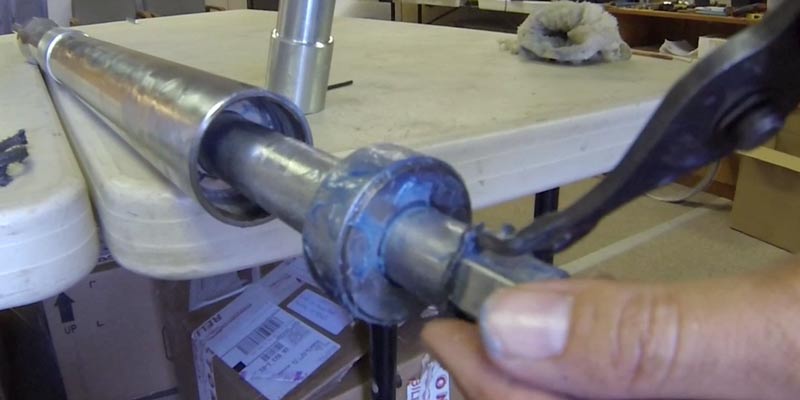 Fig, 13, Grease Bearing and Install
6. Install retainer nut (step C). Replace brass pellet with a new one, before installing retainer nut. See Image 14. It is held in place by grease.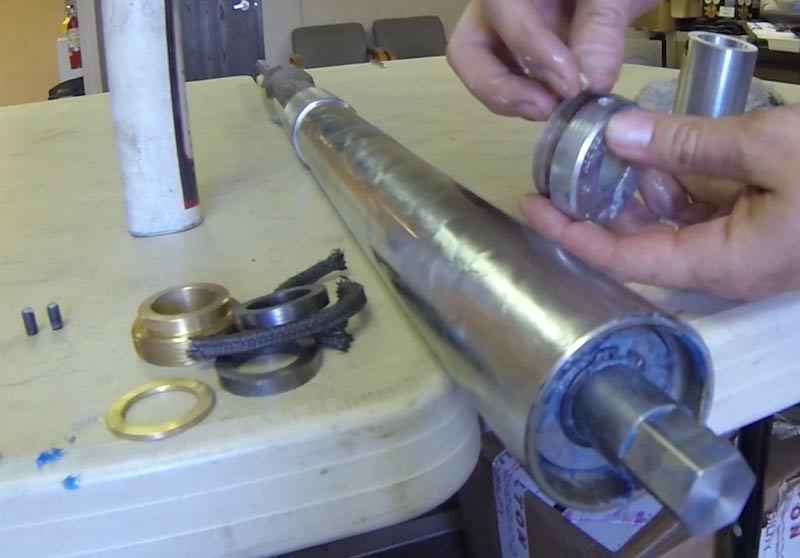 Image 14. Replace Brass Pellet
Leave us a Facebook Comment